Yorkshire Ouse Sailing Club open meeting
The 2017 GUL "Naburn Paddle", 4th June 2017.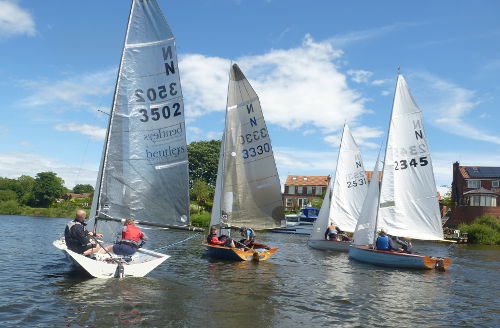 For the first time in many years, if ever, Yorkshire Ouse SC had been invited to host a round of the National 12 traveller series, now generously sponsored by GUL Watersports, run over the season across the UK. The Club was delighted to accept and the event duly started in bright sunshine and light winds with the Jubilee Trophy Race on Sunday morning.

A much improved attendance saw a crowded start line on the river but Patrick Hamilton and Gail Kay N3502 got clean away, chased hard by the leading vintage boat N2620 of Dave Peacock and his YOSC crew Tina Beresford. Third was multiple past winner and YOSC stalwart, Philip David with his crew Fiona Phillips, both former YOSC Commodores in N2545.

After a lunch stop the wind had picked up, leading to some brisk sailing, but this time the Hamilton/Kay crew were over the line at the start and had to return, putting them out of contention. This left the Peacock/Beresford crew a clear run to a vintage boat win over the far more modern competition.

The final race and a shorter course but now it was the Peacock/Beresford boat over the line at the start. Tim Hampshire (N3330) was first to the windward mark and held the lead for much of the race. Following the Hampshire boat, a crowded leeward mark had Brian Herring & Ros Stevenson (N2345) in trouble dropping them to last before recovering well. As the race reached its third lap, the Hamilton/Kay crew reasserted their authority and took the lead and a well-deserved win.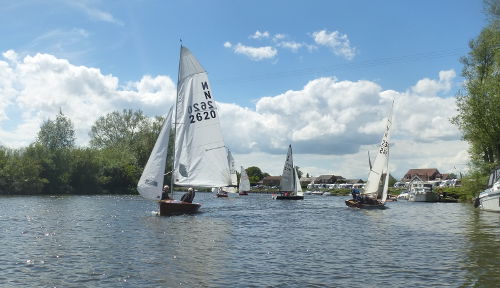 Prize-giving, YOSC cakes and YOSC's famous Naburn Paddle, rounded off the day with Patrick Hamilton and Gail Kay overall winners, both of the Jubilee Trophy and The Paddle, with Dave Peacock and Tina Beresford second and winning the Transom Trophy for vintage boats. Also awarded were valuable prize vouchers most generously supplied by series sponsor GUL Watersports. These included Merit awards and the popular choice of furthest travelled and his first visit to YOSC, Angus Beyts and his crew Rosemary Overend got a special cheer, Angus, not only travelled furthest from Perthshire but as he's was also just recovering from a replacement hip!