Yorkshire Dales open meeting
3rd September 2017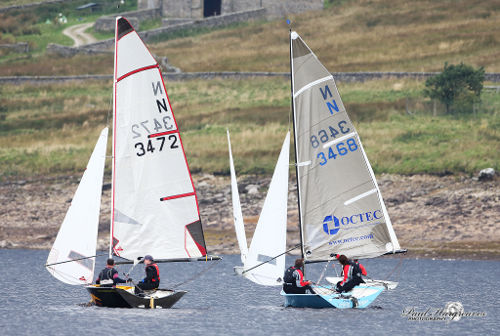 A small but keen fleet attended the National 12 Open meeting at Yorkshire Dales SC. We shared the water with the Vortex Northern Championships and the normal Club racing which made it interesting and entertaining at times with the variety of boats on the water. Wind direction was not normal for Grimwith and so we found reading the shifts and playing the variable wind strength was critical for success.
First race, on a squashed figure of eight course, Mark & Toby took an early lead only for John & Ali and Patrick & Oliver to get past him on the third lap when it went light. Mark & Toby chased back and just got back ahead of John & Ali at the last leeward mark and held them off to the finish.
The OOD decided to get another race in before lunch on the same course. Neil & Oscar tacked off straight after the start and carried a lifting breeze all the way across the reservoir. This put them in a great position and they rounded the windward mark as lead Twelve and ahead of most the fast handicap club fleet. It all went wrong for them on the next windward leg as they got on the other side of the shift and the others got past. Mark & Toby got into the lead only to capsize on the next lap at the windward mark allowing Patrick & Oliver to get into the lead which they held to the end of the race. After the race, we came ashore for a well needed and wonderful YDSC lunch.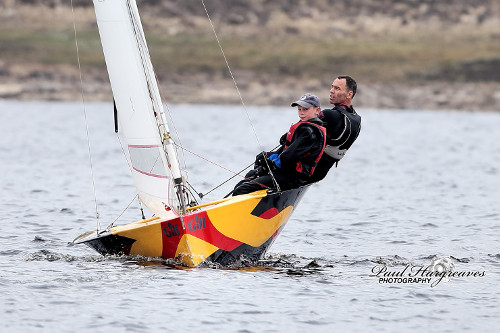 After lunch 2 back to back windward leeward races were held, Mark & Toby won them both, with Patrick & Oliver in second place, the author got tired but we had had all enjoyed ourselves !

Thank you to Yorkshire Dales SC for some great sailing, the warm welcome and keeping us fed and watered, and to Paul Hargreaves Photography for taking some brilliant photos.


Overall results
1 Mark and Toby Simpson N 3472 (Big Issue) – Scaling Dam SC
2 Patrick Hamilton and Oliver Newbury N3502 (Big Issue 2) – Burwain SC
3 John and Alison Cheetham N3468 (Numinous) – Yeadon SC
4 Neil McInnes and Oscar Ward- Lasckey N3356 (Design 8) – Yeadon SC

Photos by kind permission of Paul Hargreaves Photography