Vintage Twelves are those with clinker built hulls. The earliest boats, from 1936 until 1952, are of traditional ribbed clinker construction. The most common designs are the Uffa King, Holt 500 series and the early Ian Proctor designs. At this time, designers (and everybody else) believed that 12 foot boats were too short to plane, so they all have deep-chested V's hulls. They are most satisfying to sail to windward, but they will only plane in strong winds.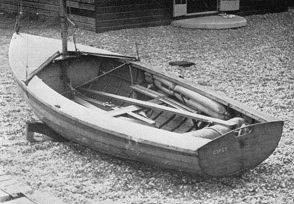 In 1952 the first glued clinker boats were built, these were durable and easily maintained and so this method of construction became universal. In 1958 the first fully planing N12 was designed representing the most important land mark in the development of the class. The Proctor Mark VIII instantly outclassed all previous designs in open water conditions. Subsequent very successful designs were the Landamore Sparklet, Mike Jackson's March Hare and Phil Morrison's China Doll. A taste of the future was the Mr Jones hull - the first ultra-wide TWELVE. Lovely looking and fast but woe betide you if you heel this boat more than about 20 degrees - which isn't a lot!!
In 1970, the Class adopted four plank construction and several designs of this period appeared in both clinker and four-plank form, notably Phil Morrison's China Doll and Whisper hulls. In the early 1970's, glued clinker construction disappeared in favour of four-plankers and here our Vintage era sadly ends.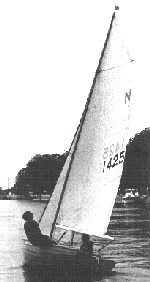 Anyone buying a vintage boat should be aware that although most designs have been produced with the ultimate aim of winning the Burton Cup, some have been specialised for other purposes or have by accident produced boats which are particularly suitable for certain weather conditions or types of water. The Proctor IX was an outstanding light weather hull (but hairy in a blow). The Proctor IVa and the Mike Nokes Starfish were outstanding river boats.
Also, you cannot expect a Vintage twelve to be competitive with modern boats in planing conditions. Vintage boats are however surprisingly competitive on smooth water and in lighter winds especially if they are in good condition and down to weight.
The TWELVE Association encourages the restoration and use of Vintage boats by arranging special events for them. There is a well established Vintage Section which looks after the interests of Vintage boat owners.
Help us make sailing more varied and more visually attractive by putting your clinker boat on the water. Read more about the vintage designs in the designs section.