Welcome to The Latest Chapter! It's only 3 weeks to go until the start of Burton Week so we're looking forward to the biggest event of the 12 season. We also look back over some great sailing so far this summer.

In this issue: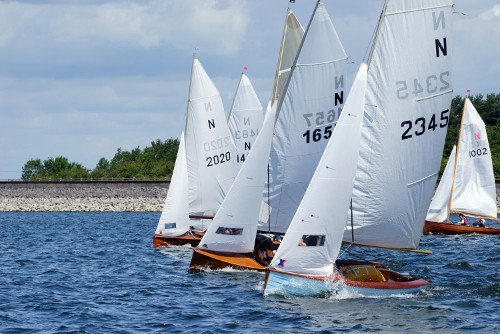 Racing at the Vintage Championships, Burton Sailing Club.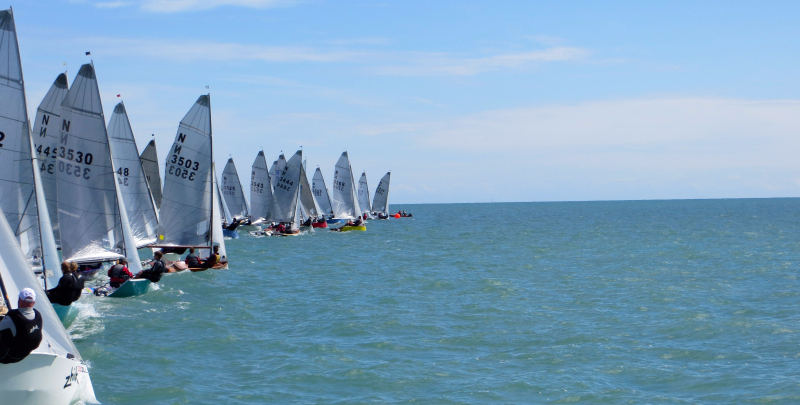 We are now in the month of Burton Week 2015, the top event of the year!
Taking place this year at Herne Bay Sailing Club from 22nd-25th August, there will be racing across all designs and sectors of the 12 fleet. Two races will be held on Saturday, Monday and Tuesday, with the prize giving held after Tuesday's racing. Whilst the Sir William Burton Cup race will take place on the Sunday. For those that don't know this is the 12s ultimate endurance race of 13 miles around a triangular course.
Everything at Herne Bay is within easy reach: launching is off the beach with no long sail to the racing area, camping is on site and camper vans can be parked outside (as long as they are booked in in advance).
As well as the racing on the water there is also plenty going on off the water. A BBQ is arranged and of course there is the annual Burton Dinner.
There has already been one Burton Week winner already - John Meadowcroft was one of the early bird entries and won a half price P&B jib in the early entry draw - congratulations John! Don't worry though if you haven't entered yet - it's not too late! Entry forms can be found
here
along with further information about the event.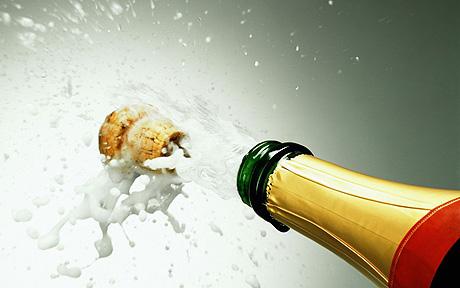 In recent years it has been a battle between the top two: last year's winners Tom Stewart and crew Andrea Downham and last year's GUL series winners, Graham Camm and Zoe Ballantyne. After a third place finish last year, Graham and Zoe will be keen to reclaim the top spot and a stunning set of results so far in the GUL Series bodes well for them.

A lover of big seas and big breezes, last year's runner up, Steve Sallis shouldn't be discounted. Although not with regular crew, daughter Joanne, this year it will be interesting to see how he places.

Thew newer Dead Cats should also keep an eye on the original design, now sailed by Jeremy Hartley with son Luke. Fast and fit, these two also love it when the wind blows!

Yet it isn't all about the Dead Cat Bounces, John Meadowcroft has had an incredibly successful year so far with his new Hi-Jack design - is it time for a new bow at the front? A previous winner of the Burton Cup, John and wife Katy will be looking this year to take over the show!

Previous winner, Antony Gifford may though have something to say about that. He's rejoined the fleet with a bounce this year and already posted race wins at this year's GUL events.

Yet as we know, anything can happen, so who knows who will be lifting the trophy? We'll see you later this month to find out!



With less than a month to go there are several helms looking for crews for Burton Week. If you are available to crew for 1,2,3 or 4 days of the event please get in touch with us.
It promises to be a great event and with some fabulous helms needing a crew, it offers a fantastic opportunity to get more 12 sailing experience, whether you are a serious sailor wanting to race at the top or you want to learn the ropes in a more relaxed way.
If you are available
please let us know
. We will ensure you are matched to a helm that suits you!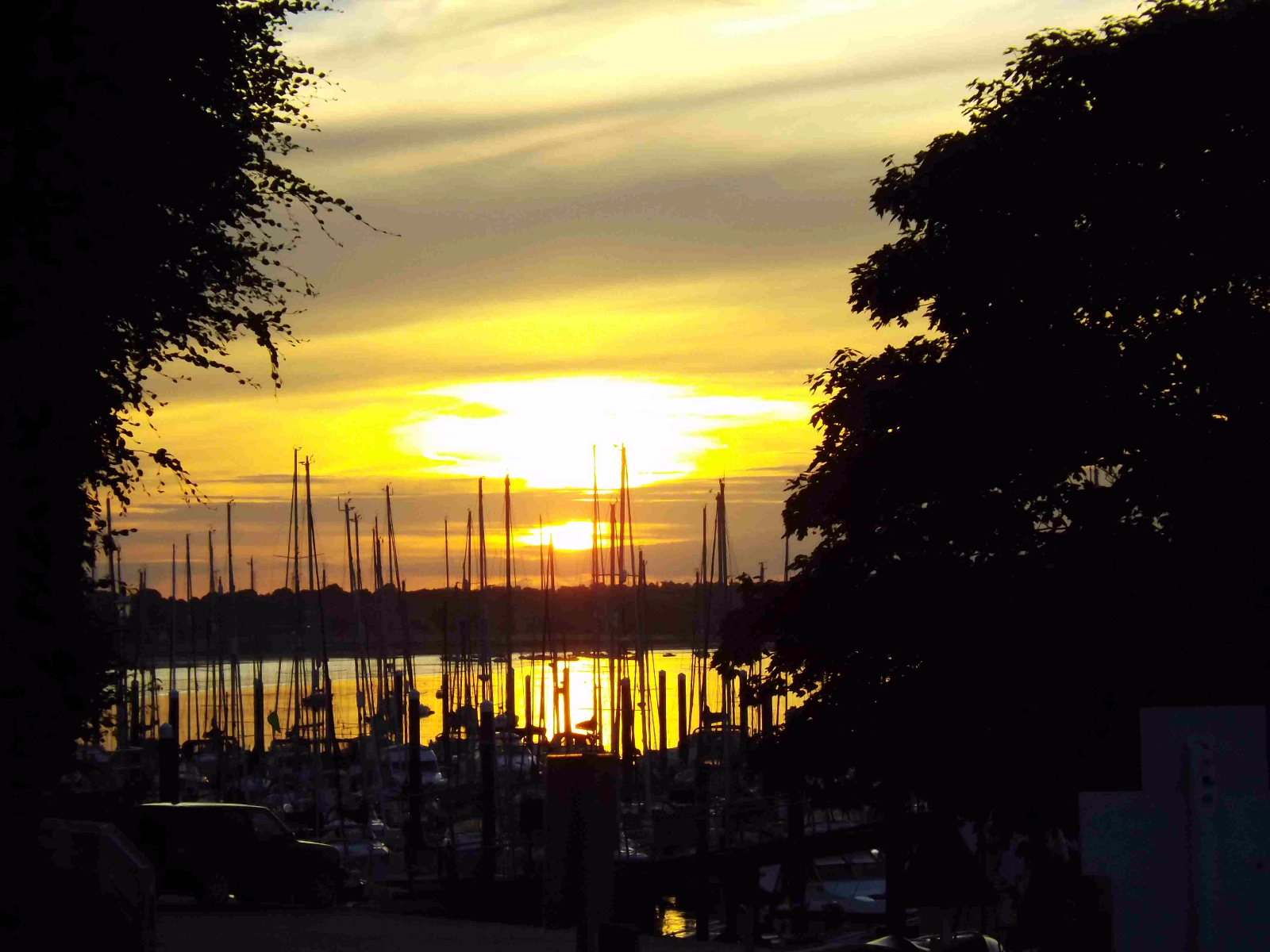 Lovely sunset at Royal Harwich Yacht Club after day 1 of the GUL series regatta. Photo taken by Angus Beyts.

There has been lots going on already this summer. Here is a round up with links to the full reports.

At the end of June 12 sailors old and young joined together for training, games and racing. With an Olympic coach on hand to advise and the sun also making an appearance, the weekend was a fun learning experience for all. Read the Yachts and Yachting report here.

The beginning of July saw the fourth GUL event of the year take place at the much-loved Royal Harwich Yacht Club. The event not only saw some new and younger crews in action, but also, with an age related handicap some of the more experienced helms and boats took to the water. Full report here.

Older boats were also the name of the game at the Vintage Championships, held at Burton Sailing Club. Vanished and polished to the max, these beautiful boats showed that they still had it on the water. Find out the results here.

Finally the northern fleet were in action at Sunderland Sailing Club for the ANEYC championships. There was much close racing to be had in breezy conditions, but it was Philip David who came out on top. Read what happened here.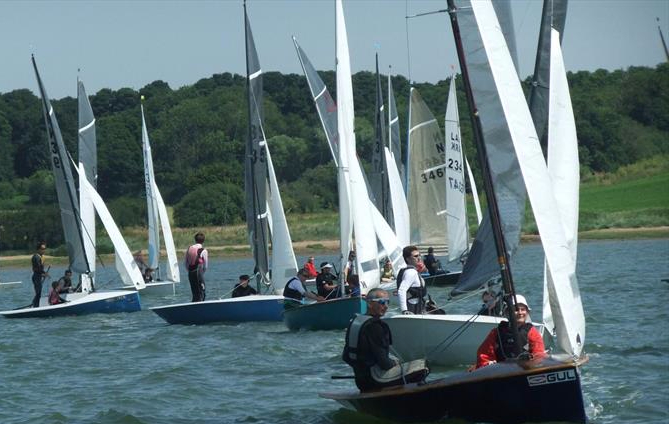 Close racing at GUL event #4 at Royal Harwich in early July.
We are half way through our 2015 GUL Series. Having visited Burghfield, Salcombe, Brightlingsea and Royal Harwich, Graham Camm and Zoe Ballantyne have a convincing lead with four wins, they can however still be beaten as 4 events still remain. In second place, Nick Copsey and a range of crews have sailed well across the event. Antony Gifford, sailing with sons James and Rory sits in third currently. Neal Lillywhite, crewed by daughter Freya, currently leads both the Non-Foilers and Admirals Cuppers. Full results are on the
N12 website
.
Remaining events include our national championships at Herne Bay, the Scottish Championships at Solway in September, a one day open meeting at Ripon and our Inland Championships at Northampton.

Dates for your diary
Salcombe Regatta 9-14th August
Olton Mere SC 15th August - Four Plank Series
Herne Bay SC 22nd-25th August - Burton Week 2015 including Burton Cup and National Championships and GUL Series #5
Cramond BC 28-29th August
Redesmere SC 6th September
Solway YC 12-13th September - Scottish Championships and GUL Series #6
Ripon SC 3rd October - GUL Series #7
Northampton SC 7-8th November - GUL Series Finale and Inland Championships
A full list of fixtures for 2015 can be found on the
N12 website
.


I hope you enjoyed The Latest Chapter. See you at Salcombe regatta or Burton Week.

Chris Day
N3526