Welcome to The Latest Chapter! The GUL Series got off to a flyer with the sprint champs and Burghfield so hopefully we're all a bit better at starting. Read on for the news from Burghfield and a look ahead to what promise to be 3 of the biggest events of the year.

In this issue: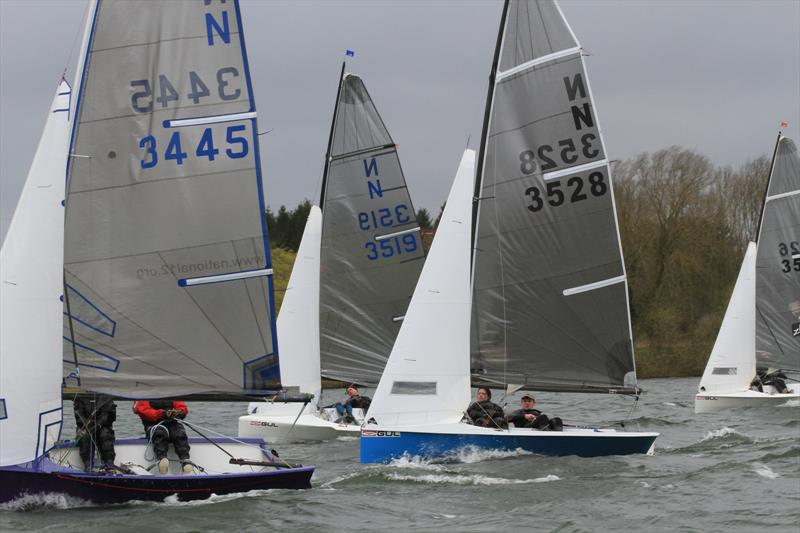 12s enjoying some 'sprinting' at Burghfield.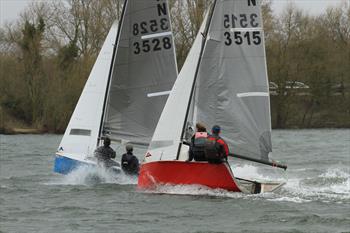 Sprint sailing at Burghfield
The 2015 National 12 Gul Series kicked off at Burghfield SC on 28th March with one day of 'Sprint' races. 10 races held, each over one lap, with winds gusting well over 20mph, this was an excellent early season test for the 13 crews entered.
Graham Camm and Zoe Ballantyne dominated winning four out of five of the morning races, with Nick Copsey and Katy Meadowcroft often snapping at their heels and picking up one race win for their troubles.
After lunch everyone was tempted back out, but Camm and Ballantyne still dominated, again winning 4 from 5. Copsey and Meadowcroft took a string of seconds and another race win. Jeremy and Luke Hartley were fast downwind, and kept coming through the fleet but rarely in good enough positions at the first mark in order to capitalise on this speed. Overall Camm and Ballantyne came out winners with Copsey and Meadowcroft second and the Hartleys third. In the Admirals Cup division for older boats Neal Lillywhite and Ollie Meadowcroft came out on top, ahead of Alan Beaton and Helen Barry.
The meeting was also notable for the Tom Lee's home built boat N3545 being launched. A fantastic effort over the last two winters, built in strip cedar to the Dead Cat Bounce design.

You can read the full write up and results here.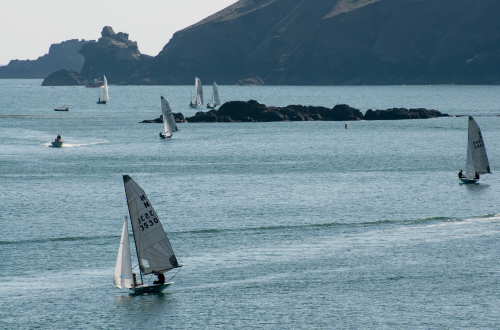 12s at Salcombe (no superlative caption needed)
The GUL Series heads South West for Salcombe next weekend. Over the 3 days of the Bank Holiday weekend (2nd, 3rd, and 4th May) there will be close racing up and down the creeks for all levels of National 12 sailor. The event attracts the newest designs including the Dead Cat Bounce and Paradigm 2 with their foiling rudders, traditional designs such as the Feeling Foolish and some beautifully crafted, wooden vintage Admiral's Cup boats.

National 12 Racing kicks off on Saturday 14.30 under Flag T, followed by two races on Sunday at 10.30 and 14.00 with a hot pasty delivered to the beach between races then cheesy chips at the club after racing, all included in the entry fee. The final race is on Monday at 10.30 with prize giving at 14.00.
Racing will be competitive and spectacular, with Salcombe Yacht Club also hosting a Salcombe Yawl open meeting and on Saturday there is the large local Solo fleet to watch too. From the club terrace or the sandy beaches on the Portlemouth side of the harbour there are fine views of the start, finish and downwind leg; scenic on a calm day, thrilling if the wind blasts down the harbour. The sailors will be racing all around the estuary, or perhaps out to sea, with good technical sailing around the points and up creeks, complemented by long reaches and fast-tacking beats. A true sailing work-out awaits you!

Entry is £25.00 (late £30) with an optional hot buffet for £13.50 on the Saturday night. The Harbour Master has waived harbour dues for competitors for the event. Boat parking and launching is available at Batson Creek boat park.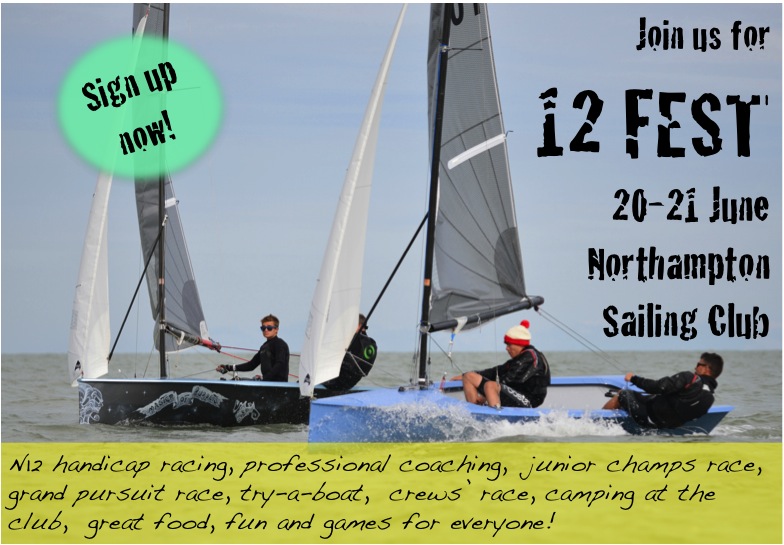 A new event for 2015,
12 FEST
, takes place 20th-21st June at Northampton Sailing Club. This will be one you won't want to miss with National 12 handicap racing and a grand pursuit race. There will also be a crews race and the Junior Championships Race will be held over the weekend.
Unique to this event professional sailing coach, Steve Irish, will be running coaching on the Saturday. This is a fantastic opportunity to focus on the areas you need support with. You can let us know which skills you want to work on when you register.
As you would expect from any summer event there will be fun and games, including paddleboarding, for the kids (big and small!) as well as free on-site camping and food provided by the superb galley team at Northampton.
Pre-registration is available on the N12 website
here
.
Don't miss out on the fun - get yourself booked in now!

The Burton Week website has now been launched. Click here to have a look. There is everything you need to know about the premier N12 event of 2015, held at Herne Bay on 22nd-25th August. Thanks must go to Jeremy Carey for all of his hard work on this fabulous looking website!

There is information about the racing schedules and social schedules as well as advice on where to stay. Non N12 owners can also apply to borrow a boat through the website.

Don't forget the first 20 entries will be entered into the draw to win a brand new jib, if you need an entry form you can find one here.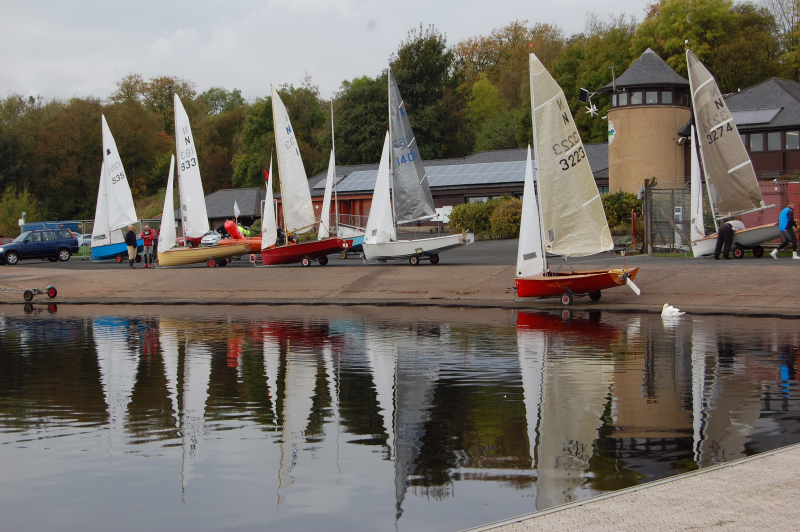 Upcoming Events
After a slightly later start than in previous years the Scottish Season kicks off at Castle Semple SC (pictured above) at Lochwinnoch, south of Glasgow on the 23rd and 24th May. This event is a qualifier for the Lairwell Trophy.The next event in the Lairwell Travellers Series is at Cramond Boat Club in Edinburgh on the 29th and 30th August. The Scottish events then conclude with the Scottish Championships on 12th and 13th September with a return visit to Solway Yacht Club in the beautiful setting of Kippford in southern Scotland.
The Midland Area and Vintage Series head to Trent Valley for the first open meeting of the summer at this historic N12 club. Here is a message from Paul Turner:
As you may have seen from the NTOA website the 2015 calendar of Trent Valley open meetings has changed:
Sunday 10th May - Midland Area & Vintage Open Meeting - first race 11:00. Food available at lunchtime.
Sunday 19th July - HD Sails Four Plank Series Open Meeting - races at 13:35, 14:35 and 16:35 (five minutes after club races). Tea at 16:00
There will be no September Open meeting this year. If you need more info please email me at paul.turner@lingphipp.co.uk
Hope to see lots of you at Trent Lock!
Looking a bit further ahead, the GUL Series visits Brightlingsea SC on 6/7th June. This is the perfect opportunity to tune up for Burton Week and this previous and future Burton venue.

Dates for your diary
Salcombe YC 2nd-4th May - GUL Series #2
Brightlingsea SC 6-7th June - GUL Series #3
Royal Harwich YC 4-5th July - GUL Series #4
Herne Bay SC 22nd-25th August - Burton Week 2015 including Burton Cup and National Championships and GUL Series #5
Solway YC 12-13th September - Scottish Championships and GUL Series #6
Ripon SC 3rd October - GUL Series #7
Northampton SC 7-8th November - GUL Series Finale and Inland Championships
12 FEST - N12 Coaching & Summer Event at Northampton SC 20th-21st June
Vintage Championships at Burton SC 27-28th June
A full list of fixtures for 2015 can be found on the
N12 website
.
Welcome to New Members
Finally, we'd like to give a warm welcome to all the recent new members of the NTOA. We hope you enjoy your 12 sailing as much as we do.
Andrew Currell of Poole, Dorset with N3490
Ben Brown of St Lawrence, Southminster with N3481 (a welcome return)
Alex Tulloch of Kirkliston, Edinburgh with N3223 (a welcome return)
James Waterer of Woking, Surrey with N3247


I hope you enjoyed The Latest Chapter and hope to see you at Salcombe.

Chris Day
N3526