National 12 Gul series finale and inland championships
4th & 5th November 2017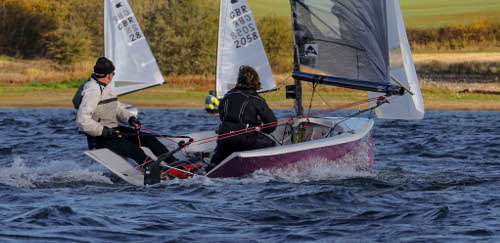 26 Twelves took to the water for the National 12 Gul series finale and inland championships. Following a damp morning the weather cleared to present the fleet with a clear blue sky and perfect force 3 with the occasional force 4 gust. Three races were run on the Saturday as the Gul series final with an additional two races on the Sunday for the Inland Championships. Amongst the 26 were many new faces to the Gul series with Dave & Hugo Dobrijevic in 3179, Toby Pearce and Pippa Edwards in 3469, Jenny & Ian Wilson in 357, Oliver Meadowcroft sailing with Maya Brown/Imogen Wade in 3320, David & Rowan Copse in 3458.

In race one, John & Dan Meadowcroft made an excellent start and sailed into a commanding position at the head of the fleet. However the position was precarious as with the gusts and shift conditions there were plenty of overtaking options. The Hartleys, Stewarts and Gores all fought hard in the chasing pack. In the end the Gores found a new high speed gear to sail into the lead and take the bullet.

In race two it was Tom & Robbie Stewart who took an early lead, the chasing pack closed the gap on them a few times but never broke their lead. The situation was similar for race three with Graham Camm & Zoe Ballantyne taking the early lead which they extended through a high speed reach aided by some lucky timing as the complete the first lap and re-crossed the start-line just as the OK fleet starting putting 20+ OKs between them and the chasing pack.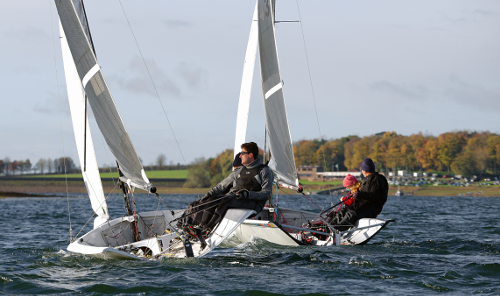 In the evening the Gul series prizes were awarded and Northampton Sailing Club provide excellent entertainment with a toasty bonfire and firework display.
Many hardy sailors camped the night and awoke to another glorious day, the ice melted off the boats pretty quickly and the wind built to a perfect force 3 again with the occasional force 4 gust. Graham Camm & Zoe Ballantyne took the first race of the day. The final race saw much place changing. The wind was very patchy off the start. Tom & Robbie Stewart made good use of the gusts to take an early lead. The pack behind jostled for position with The Hartleys, Jon Ibbotson & Rachel Smith and Gores all in the mix. The wind was now swinging massively on the beats. Jon & Rachel found a perfect path on the second lap to lead the chasing pack. On the downwind the Hartleys flew in the gusts to head the pack. Graham Camm & Zoe Ballantyne steadily worked their way up the fleet into second. By the final run Graham & Zoe were hot on the heels of the Stewarts and managed to slip past on the run to win the race


Inland Championship Results


1st Graham Camm & Zoe Ballantyne
2nd Tom & Robbie Stewart
3rd Ian & Alex Gore

1st Non-Foiler Nigel & Chris White
1st Admiral's Cup Tim & Wendy Gray
1st Junior Ollie Meadowcroft, Maya Brown and Imogen Wade

Gul Series results