Ripon Dinghy Shack Series
3rd October 2021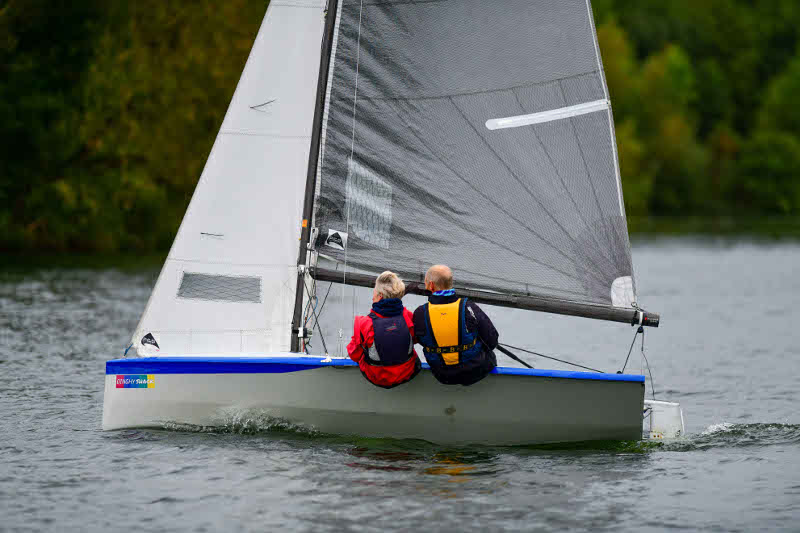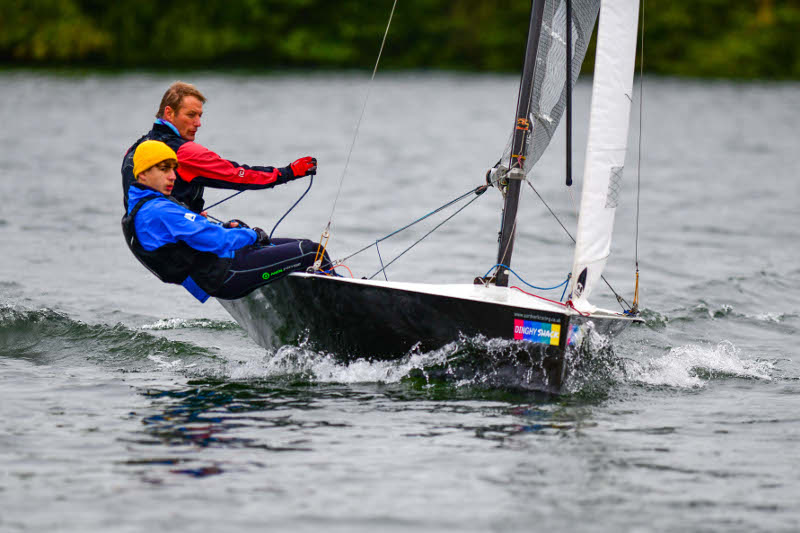 Dire wind forecasts, unseasonal temperatures, heavy rain and a national fuel crisis did not stop the smiles at this yearís National 12 Open at Ripon. The 9th event in the Dinghy Shack series started with a steady Southerly blowing down the lake and a clean start for the fleet. Ian & Alex Gore set the theme for the day and pulled ahead of the fleet to get a solid win. Places were traded behind them with Philip & Em taking the 2nd spot after a hard fight with Paul & Isobel who had their best finish of the day with a 3rd spot.
After lunch the fleet headed out into the heavy rain and blustery winds for two more races back-to-back. With some interesting wind shifts Phil & Em found themselves on the wrong side of the first mark and had to wear round. Ian & Alex once again pulled ahead to get the win and Phil & Em worked hard to make up for the start to get 2nd. The battle for 3rd looked to be going the way of John & Alison until the last beat when Tim & Chris managed to get more speed to just pull ahead.
In race three Ian & Alex were once again ahead but Tim & Chris were closing down the lead as the wind picked up. A slight drop in wind and a few mistakes let Ian & Alex relax for their third win and allowed Philip & Em to get ahead on the last run down and then cover all the way up the beat to get the 2nd spot for the third time. John & Alison stayed ahead of Paul & Isobel to replicate the previous finishing positions. Tony, now crewed by AJís dad, was never far behind but Steve and Ethan spent too much time swimming and the unseasonal cold sent them home for an early shower in the last race.
Sailing for the first time at a Ripon National 12 event were juniors AJ, Ethan and Isobel. The cold got through to a couple of them, not least for the several swims that Ethan had, but Isobelís smile warmed everyone up at the prize giving. We had juniors in the race office too with Lucy Priest being ably assisted by her two helpers, Katie & Calum, and by AJ for the afternoon races.
Overall results
| | | | | |
| --- | --- | --- | --- | --- |
| 1st | Ian Gore | Alex Gore | 3525 | Up River Yacht Club |
| 2nd | Philip David | Em Hampshire | 3499 | Yorkshire Ouse & Ripon Sailing Club |
| 3rd | Tim Hampshire | Chris Hampshire | 3330 | Ripon Sailing Club |
| 4th | Paul Keeling | Isobel Keeling | 3285 | Blithfield Sailing Club |
| 5th | John Cheetham | Alison Cheetham | 3209 | Yorkshire Dales Sailing Club |
| 6th | Tony Dufton | AJ Gregory/Patrick Gregory | 3283 | Yeadon Sailing Club |
| 7th | Steve Jackson | Ethan Wild | 3505 | Ripon Sailing Club |
Tim & Ali Hampshire
Photos by Tony Dallimore