National 12 Dinghy Shack Series at Royal Harwich Yacht Club
1st & 2nd July 2023
As the fleet slowly but surely descended upon Royal Harwich Yacht Club far too early on Saturday morning it became immediately clear that it actually was quite windy (18kts gusting 23kts) out in the uncharacteristically windy River Orwell.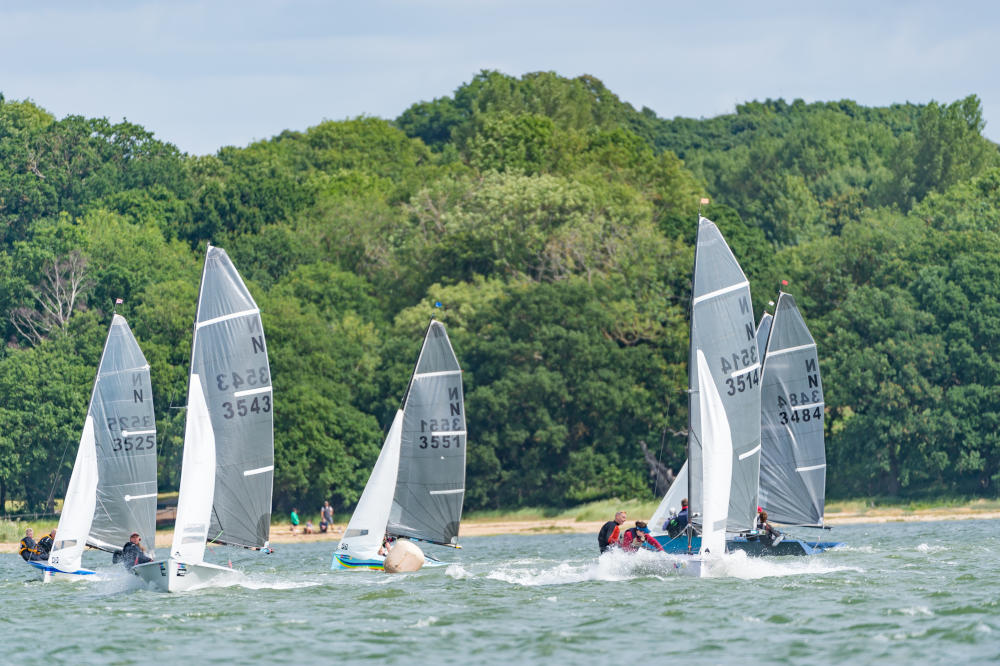 A few sensible competitors arrived the night before, ready for the 10:00 start on Saturday, due to 'difficult' weekend tides this year.

After launching promptly, the race committee rolled into the first of three races, in which Tom and Isobel Stewart (N3544) showed Ollie Meadowcroft and Cally Terkelson (N3543) that no hard how Ollie and Cally hiked, Tom & Isobel could certainly rake more and sail faster in the force 4-5. The PRO Joe Hunt had set a rectangular course, giving the fleet a chance to enjoy some reaching in the excellent breeze. Unfortunately the gybing wasn't so straightforward for some of the boats involved leaving two (clearly out of practice in their N12s) upside down during the first race. With the wind against the tide, there were some enjoyable waves in the river too.

The start of the second race brought more gusts, and what can only be described as the start of the century by Rory and James Gifford in N3484 (also their first N12 event together), however Ollie and Cally (N3543) tracked them down, winning race two. During this race the tide began to turn, so going towards the north shore of the Orwell upwind certainly paid off well for some of the fleet.

By race three the fleet had thinned considerably, with Ollie & Cally (N3543) winning ahead of only 5 other boats. After an early finish due to the falling tide the fleet set about repairing the damage of the day, which included a very broken rudder, two broken goosenecks, some very tired or wet sailors and several minor issues.

The Sunday promised more of the same, and delivered, if not with a few stronger gusts during the day. The fleet were keen to start, so were faced with their first general recall of the day. Tom & Isobel Stewart were on pace again winning the first race, although this time sailing Maya Brown's boat (N3514), with Ollie & Cally (N3543). providing entertainment in the form of an absolutely dreadful attempt at a leeward mark rounding. George Finch and RHYC Junior Sailor Danny Blackburn (N3551) enjoyed the sailing with the front of the fleet for a bit of Sunday's first race, rounding the windward mark in 4th, only to promptly "test the water" with an spectacular capsize to windward during a powerful gust on the first reach. Following Tom & Isobel (N3514) to the finish were Ian & Alex Gore (N3525) and Antony & Jo Gifford (N3529).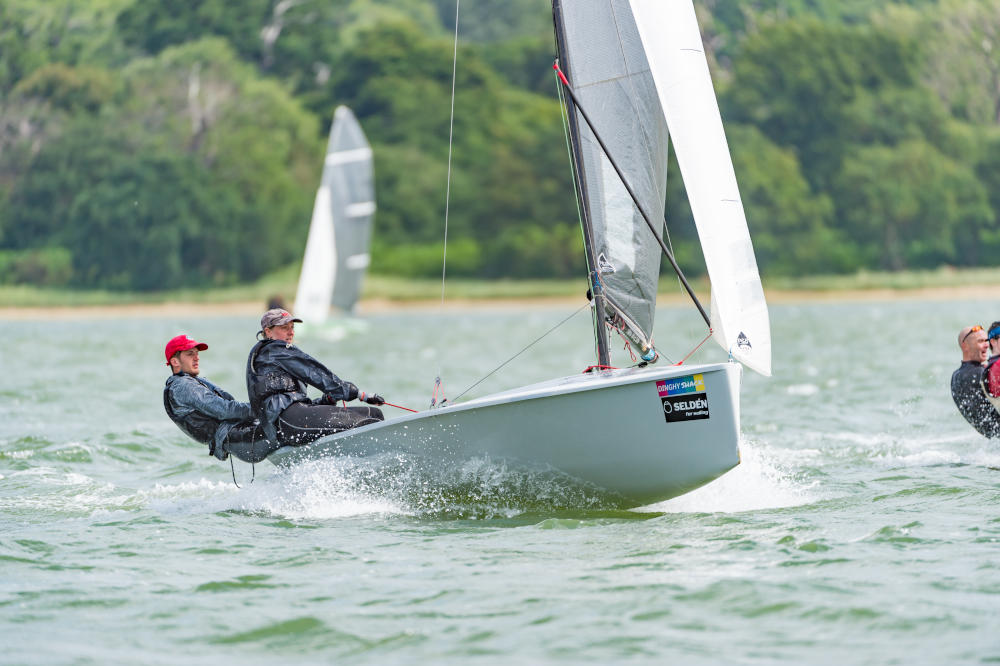 The second race provided the most wacky shifts of the weekend and a new course – a windward/leeward with a gate at the leeward end. The new course and the shifts propelled the younger Giffords (N3484) to the front of the fleet for a race win, despite them being capsized at two minutes before the start. They proved you don't need a new boat to win, you just need to borrow a really wide one (N3484 is one of the two Bim Daser 'Paradox' designs, which seem to be very quick with a T-Foil rudder….). Ian & Alex Gore (N3525) had clearly blown their cobwebs away on Saturday and were on top form, finishing 2nd in race 2.

Ian and Alex Gore (N3525) then rounded off their very solid day by winning the last race of the open meeting, followed by Tom & Isobel Stewart (N3514) and Jo & Antony Gifford (N3529).

Overall Ollie and Cally (N3543) won with some impressive speed and hiking, while Antony and Jo Gifford's (N3529) impressive but slightly boring consistency, counting only thirds, beat their sons Rory and James (N3484) who came third.

It is possible that if Tom and Isobel Stewart hadn't broken their boat after one race on Saturday they conceivably may have been up there but that will never be known.

A massive thank you to Royal Harwich and Joe Hunt the race officer for running a great event and a fantastic weekend of sailing. At the prize giving, all the RHYC Juniors who had been 'volunteered' for the event received a prize from our sponsors Dinghy Shack (Danny Blackburn, Darcy Bowen, Ollie Deer) and Rob & Harley Ford (N3459) also received prizes for attending their first Dinghy Shack event in somewhat challenging conditions!

The Dinghy Shack series continues at the end of the month with two days at Snettisham Beach Sailing Club on 29th & 30th July – also the start of North West Norfolk Week for 2023, where the N12s have their own start for the whole week.

Excellent photos taken by Pavel Kricka - https://pavelkrickaphotography.shootproof.com/gallery/21825468/album/15255278
Rank

SailNo

HelmName

CrewName

Club

R1
1/07/2023

R2
1/07/2023

R3
01/07/2023

R4
02/07/2023

R5
02/07/2023

R6
02/07/2023

Total

Nett

1st

3543

Ollie Meadowcroft

Cally Terkelson

Upper Thames SC

2.0

1.0

1.0

(8.0)

4.0

4.0

20.0

12.0

2nd

3529

Antony Gifford

Jo Gifford

Royal Tay YC

(8.0)

3.0

3.0

3.0

3.0

3.0

23.0

15.0

3rd

3484

James Gifford

Rory Gifford

Royal Tay YC

4.0

2.0

6.0

4.0

1.0

(7.0)

24.0

17.0

4th

3530

Graham Camm

Anya Camm

Burghfield SC

3.0

4.0

2.0

(5.0)

5.0

5.0

24.0

19.0

5th

3525

Ian Gore

Alex Gore

Up River YC

11.0

5.0

(16.0 DNC)

2.0

2.0

1.0

37.0

21.0

6th

3544/3514

Tom Stewart

Isobel Stewart

Royal Harwich YC

1.0

(16.0 DNC)

16.0 DNC

1.0

7.0

2.0

43.0

27.0

7th

3545

Tom Lee

Jen Bugge

Burghfield SC

(10.0)

8.0

4.0

9.0

8.0

8.0

47.0

37.0

8th

3501

Robert Stewart

Charlotte Stewart

Waldringfield SC

7.0

10.0

(16.0 DNC)

7.0

6.0

10.0

56.0

40.0

9th

3483

Jon Brown

Darcy Brown

Burghfield SC

5.0

9.0

5.0

10.0

12.0

(16.0 DNF)

57.0

41.0

10th

3551

George Finch

Daniel Blackburn

Royal Harwich YC

9.0

6.0

(16.0 DNC)

13.0

11.0

9.0

64.0

48.0

11th

3450/3450

Jon Ibbottson

Ollie Deer

Burghfield SC

6.0

7.0

(16.0 DNC)

12.0

10.0

16.0 DNF

67.0

51.0

12th

3431

Mary Henderson-White

Maddie Anderson

Brightlingsea SC

(16.0 DNC)

16.0 DNC

16.0 DNC

6.0

9.0

6.0

69.0

53.0

13th

3432

STEPHEN LE GRYS

Sabrina Ireland

Royal Harwich YC

13.0

13.0 RET

(16.0 DNC)

11.0

13.0

11.0

77.0

61.0

14th

3459

Rob Ford

Harley Ford

Royal Harwich YC

12.0

11.0

(16.0 DNC)

16.0 DNC

16.0 DNC

12.0

83.0

67.0

15th

3528

Peter Miatt

Charlie Rudkin

Carsington SC

(16.0 DNC)

16.0 DNC

16.0 DNC

16.0 DNC

16.0 DNC

16.0 DNC

96.0

80.0

15th

3514

Maya Brown

Sam Brown

Burghfield SC

(16.0 DNC)

16.0 DNC

16.0 DNC

16.0 DNC

16.0 DNC

16.0 DNC

96.0

80.0