GUL Series Round 7 Solway Yacht Club
22nd-23rd Sept 2018

Despite the threat of gales and storms forecast only a few days previously, the Scottish National 12 Championship started in pleasant if somewhat chilly Autumn weather. This year it was combined with the "Lakeland and Borders Laser Grand Prix" and with club racing continuing in the background, it had the makings of a busy first day for the Principal Race Officer, Stewart Mitchell and Assistant Lindsay Tosh.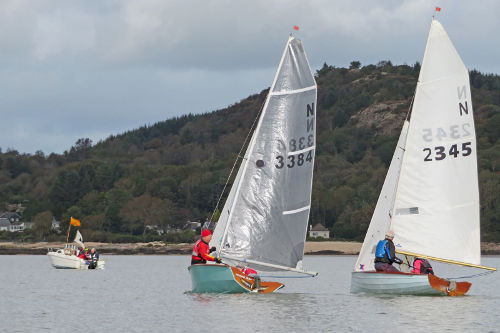 Race 1 and no great surprise with father and son crew of Mark and Toby Simpson leading away in their dazzling multi-coloured "Big Issue". After an excellent start, next up were Brian Herring and Ros Stevenson in the leading vintage boat. With the Simpson crew stretching their lead, Ian and Margaret Purkis closed on the Brian and Ros, getting ahead and claiming second in the closing stages, just when it mattered.
Race two and a longer course set, it was a closer race to the first turning mark with Mark and Toby just getting there in front of Ian and Margaret. However, in his enthusiasm young Toby Simpson decided to use the tall inflatable mark as his personal punch-bag just they rounded, forcing an exasperated Mark into penalty turns and in the process, and very briefly, handing the lead to Ian and Margaret before retaking it and winning. After a poor first race down in fifth, Neil McInnes and Anne Stewart worked their way up to second by the finish.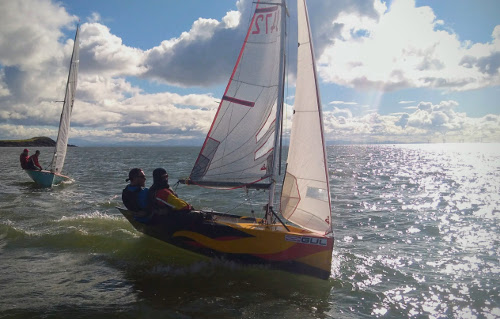 With the wind dropping, race three started with a similar pattern, the Simpsons leaving the others in their wake. In a close race, Ian and Margaret initially held second before a second lap wind shift saw the three boats forced close to Rough Island's rocky lee-shore. Brian and Ros were the first to tack off and gain an advantage ahead of Neil and Anne, Ian and Margaret slipping to fourth. By the downwind leg of lap 3 all three were abreast, but it was Ian who found the extra light wind boat speed and reached the wing mark ahead, but only just holding onto second in the tightest of finishes with the highly experienced Mr Herring.
An excellent N12 sojourn followed in The Mariner next door to the Club with some longstanding friendships rekindled. Later several joined villagers for an evening of atmospheric Scottish folk music and beer while others retired to an open log fire and more refreshment.
Day 2 and in a near perfect stiff breeze and glorious sunshine, the fleet were back out for the deciding races. After a crew swap, it was now husband and wife team of Mark and Emma Simpson who again led off with the Neil and Anne getting clear of the rest second. This time Ian and Margaret found themselves embroiled in a two lap tussle with the much improved Angus Beyts and the young Solway Cadet Bruce Copeman, now holding a creditable fourth, but upwind on lap 3 the somewhat heavier Purkis crew got clear to claim third.
By the final race the Simpsons couldn't be beaten for the overall win, but second was still up for grabs. Again, Neil and Anne got ahead of Ian and Margaret third and Angus and Bruce fourth. At the finish Ian and Neil's boats were now equal on points for second overall but when the count-back rule was applied, second overall went to Neil and Anne. Seemed fair as it was Anne's birthday but Ian and Margaret at least had the consolation of being the only ones to have been ahead of Mark at any point over the whole weekend. With Solway YC prizes and generous GUL vouchers presented, the Mariner Mug was awarded to Neil as highest placed Admiral's Cup boat. Prize-giving was concluded with young Toby being presented with the "Oh you didn't, did you?" perpetual trophy award, the "Ladybird Book of Sailing and Boating" for his punch-bag boxing training. On reflection, perhaps it should have gone to Dad for forgetting to return the magnificent Scottish Daily Express National 12 Championship Trophy. Winning it last year, he seems to need reminding its not his for keeps and of course, he has had to read the Ladybird book before!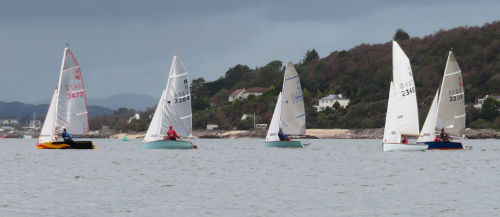 More photos at
https://photos.app.goo.gl/vK3e9jb3AHLriWk77

Overall results
1st Mark Simpson and Toby/Emma Simpson (Scaling Dam Sailing Club)
2nd Neil McInnes and Anne Stewart (Yeadon Sailing Club/Solway Yacht Club)
3rd Ian Purkis and Margaret Purkis (Solway Yacht Club)
4th Brian Herring and Ros Stevenson (Winsford Flash Sailing Club)
5th Angus Beyts and Bruce Copeman (Newburgh Sailing Club/Solway Yacht Club)