Yeadon Open Meeting
6th October 2019

The National 12 Open Meeting on 6th October at Yeadon Sailing Club began with a changeable and blustery weather forecast, the blue sky quickly being eaten up by a blanket of white fluff.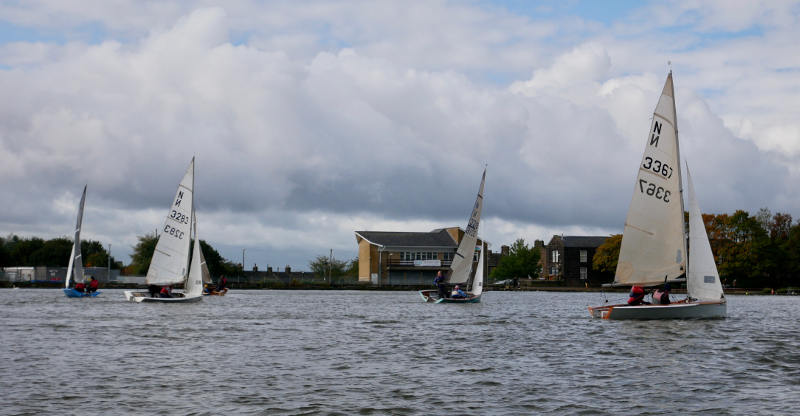 The meeting attracted a full range of National 12s designs from vintage through to double bottom foiling rudder boats.
The course for the first race was a hard one made all the more difficult because of the ever changing gusts, forcing an early retirement from 1 boat even before the ice-cream man arrived, leaving the remaining fleet battling valiantly on. After a further 7 challenging laps of the Tarn the race was eventually won by 3209, father and daughter team, John Cheetham and Ali Cheetham from Yeadon Sailing Club.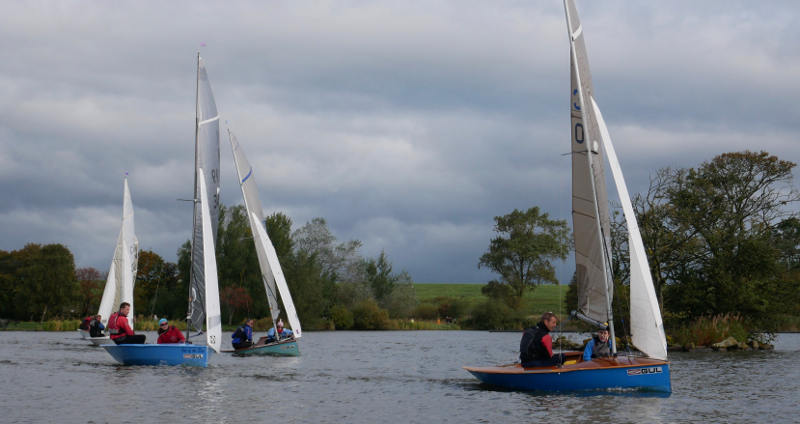 After a carb. loaded lunch the boats were back out on the water; with a change of course for race number 2 – ready to take on whatever the Yeadon weather could throw at them. Needless to say the weather didn't disappoint – unfortunately winds lightened and the heavens opened producing a slower and soggier set of crews who came in from this race for a much needed hot drink. This race was a win to 3330, father and son team Tim Hampshire and Chris Hampshire from Ripon Sailing Club.
Race 3 began, with both 3209 and 3330 hoping for a second win to secure the Open Meeting for themselves. This time the weather Gods were kinder and all the boats enjoyed a calmer and drier sail. The chances of a second win for either of the previous race winners were thrown into disarray when 3499, Philip David and his crew Emma Hampshire from Ripon Sailing Club took first place over the line.
At the prize giving ceremony trophies were awarded to the winners of the Open meeting, Tim Hampshire and Chris Hampshire 3330, and to the winners of the Northern Traveller Series, John Cheetham and Ali Cheetham 3209. Special mention should also go to the first vintage boat 2345 Brian Herring and Ros Stephenson in 4th place.
Yeadon Sailing Club would like to thank all the helms and their crews and especially all the visitors to the club and look forward to welcoming you all back to the next open meeting and joining you on the water.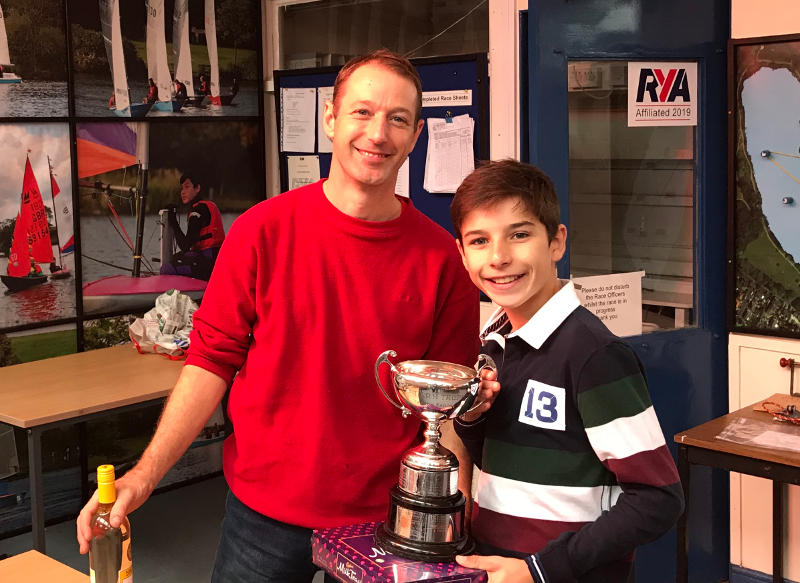 Overall results
| | | | | | | |
| --- | --- | --- | --- | --- | --- | --- |
| Position | Boat No. | Helm | Crew | Club | Design | Points |
| 1st | N3330 | Tim Hampshire | Chris Hampshire | Ripon SC | Crusader 88 | 3 pts |
| 2nd | N3499 | Philip David | Emma Hampshire | Yorkshire Ouse SC / Ripon SC | Feeling Foolish | 3 pts |
| 3rd | N3209 | John Cheetham | Alison Cheetham | Yeadon SC | Crusader | 4 pts |
| 4th | N2345 | Brian Herring | Ros Stevenson | Redsmere SC | Starfish | 7 pts |
| 5th | N3216 | Neil McInnes | Katie McInnes | Yeadon SC | Baggy Trousers | 8 pts |
| 6th | N3283 | Tony Dufton | Gail Kaye | Yeadon SC | Design 8 | 10 pts |
| 7th | N3367 | Richard Oliver | Chris Wright | Ripon SC | Crusader 88 | 12pts |
| 8th | N2966 | Gavin Gulliver-Goodall | Joe Stevenson | Ripon SC / Yeadon SC | Cheshire Cat | 16 pts |
| 9th | N3475 | Angus Beyts | Berry B | Newburgh SC / Ripon SC | Feeling Foolish – Foiling rudder | 17 pts |