Yorkshire Dales Gul Series Meeting
8th Sept 2019

The sixth event in the Gul Watersports Series was at Yorkshire Dales SC on Sunday 8th September. The Club pulled out all the stops to welcome the fleet with sunshine and flowers on the registration table. The only disconcerting thing was the mirror like calm patches in the middle of the reservoir, something you don't normally see at Grimwith ! They were however gently blown away as we rigged the boats and we had light south westerly winds with the occasional windier bit for the rest of the day.

The Race Officer decided to set P courses for the day to make the best use of the wind direction and to enable him to get a fast turnaround between the morning and afternoon's back to back races.

Race 1 set the tone for the day with Graham and Zoe leading the pack with Kevin and Tom working their way up to second. The middle of the fleet had frequent place changes throughout the race but Patrick and Gail made the best decisions in the varying wind conditions and came third. Your correspondent had their moment of glory when they picked the right way up the second beat and went from last place to third, sadly the off the wind the other boats were faster !
The second race was similar to the first but with less holes in the wind but with the same result for first and second but in this race Mark and Anna came through the fleet to take third place.
Over lunch the wind steadied and possibly increased 1 or 2 mph. Fortified by an excellent lunch the fleet were notably more together for the first half of the race so much so that Mark and Anna decided to cool off for a moment ! First and second were the same again but this time George and Lucy took the coveted third place.
In the nice conditions Graham and Zoe took a GoPro out with them to take some video and photos between the races for the N12 Website.
For the last race the Race Officer decided to stretch out the first windward leg for us. That seemed to benefit Graham and Zoe most as they disappeared into the distance ! Kevin and Tom gave chase but couldn't get close and Mark and Anna, now cooler, took third.

So overall Graham and Zoe won, Kevin and Tom were second and Mark and Anna were third. A great days sailing was had by all in sunshine !

Big thanks again to Yorkshire Dales SC for being such fine hosts and to Gul Watersports for the Gul Vouchers and for sponsoring the series.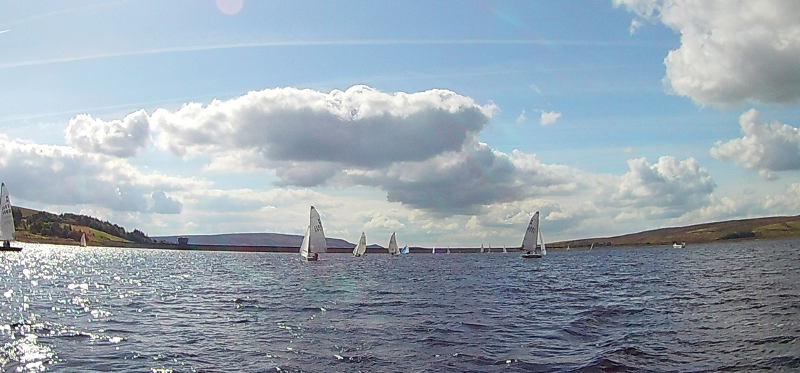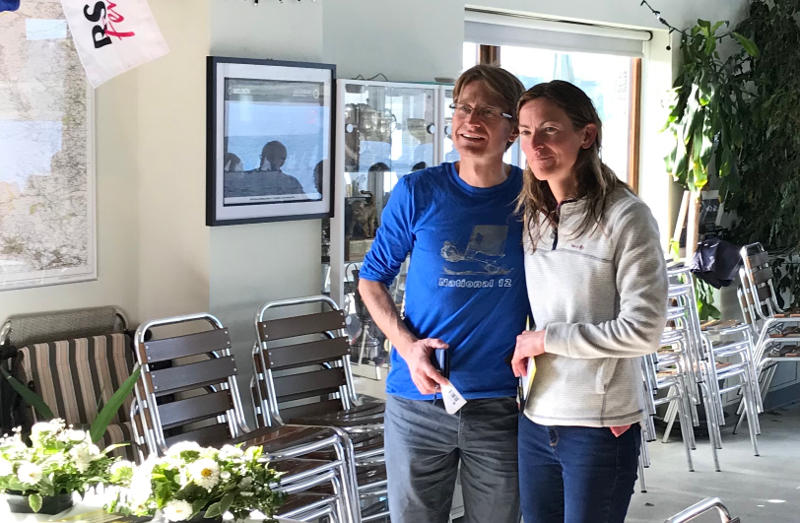 Overall results
| | | | | | | |
| --- | --- | --- | --- | --- | --- | --- |
| 1st | N3530 | Graham Camm | Zoe Ballantyne | Burfield SC | Dead Cat Bounce | 3 pts |
| 2nd | N3527 | Kevin Illes | Tom Moss | West Oxfordshire SC / Ripon SC | Dead Cat Bounce | 6 pts |
| 3rd | N3472 | Mark Simpson | Anna Simpson | RYA | Big Issue | 10 pts |
| 4th | N3513 | George Finch | Lucy Finch | Royal Harwich YC | Feeling Foolish | 11 pts |
| 5th | N3502 | Patrick Hamilton | Gail Kaye | Burwain SC / Yeadon SC | Big Issue 2 | 12 pts |
| 6th | N3468 | John Cheetham | Alison Cheetham | Yeadon SC | Numinous | 17 pts |
| 7th | N3216 | Neil McInnes | Oscar Ward Lasckey | Yeadon SC | Baggy Trousers | 21 pts |