Gul Series 2017 - Event #1
Nearly 20 boats turned out for a warm but windy open meeting at Burghfield Sailing Club in March. Once again we shared the short-sharp race format with the OKs and had some tremendous fun on the water, with 4 different race winners from 8 races.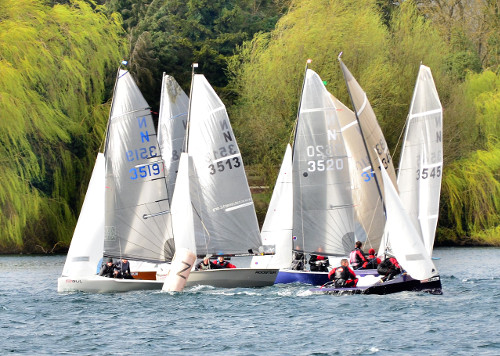 Close racing at the windward mark!

Tom Lee's summary of the event is below:
Eight visitors came to join nine of the local National 12's at Burghfield sailing club. The sailors were greeted with an 18kts westerly gusting 25kts, as forecast. Race officer Ian Bullock set a trapezoid course with an inner loop and outer loop in order to keep the 2 fleets separate. With the National 12s racing on the outer loop and Oks on the inner loop. The aim was to run as many 15-20 minute races as possible
Race 1 started without incident with Tom and Robert Stewart taking the win. On the second start, the fleet was a bit more eager to go causing a general recall which gave the race officer the opportunity to get the new 'U' flag out the fleet then got off cleanly. Races two and three where won by Graham Camm and Zoe Ballantyne, race four saw Tom and Robert back at the front.
After four morning races, Tom and Robert Stewart were leading by three points with John Meadowcroft and Sam Brown in second and Graham Camm and Zoe Ballantyne in third.
After an excellent lunch, a slightly depleted fleet returned to the water for four more races; this time the N12s were sailing the inner loop of the trapezoid which had the effect of keeping the fleet compact for longer. John and Sam took the win in race 5, Graham and Zoe won races 6 and 7 while Nick Copsey and Rosie White took the gun on race 8 propelling them to 4th overall. By the end of the afternoon, Burghfield sailors Graham and Zoe had done enough to win the event by two points from Tom and Robert with John and Sam in third. Jon and Maya Brown were first 'non foiler' and Bim Daser and Katie Meadowcroft were first Admiral's cup boat (non self-draining boat).
Many thanks to Ian Bullock and his race team for running some fantastic racing, to the safety teams who where kept busy throughout the day, the club managers and of course Gul for their sponsorship of the series.