Trent Valley Open Meeting - Report
Paul Turner writes.......

"It was a real "train spotters" Open Meeting at Trent Valley on Sunday 7th May; there were four original design National 12s sailing namely N2399, N2403, N2750 and N2993. The N12 anoraks will immediate be able to work out which is which without cheating! There was also added interest with a "shoot out" between two former TVSC members who were also Burton winners. And a well-known N12 designer was re-acquainted with his last offering.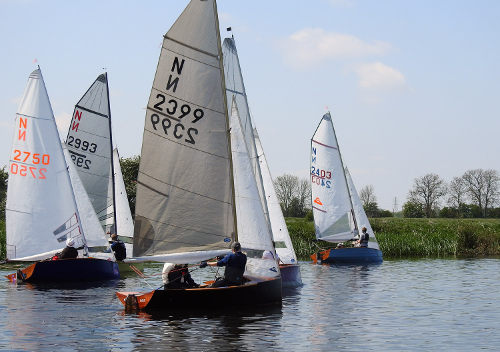 Race one saw a general recall, with majority of the five boats over the line – Gerald's "just in time" planning had gone slightly awry, arriving in the car park as the five minute gun sounded. The wind was diabolically fluky as the fleet battled uphill through the "Doldrums" at the Scout HQ to find even less wind in the stretch up to Billystones.

Places changed by the minute but Graham crewed by his son Felix broke clear of Rob crewed by sister Ann (they hadn't sailed together for over 30 years, and Rob's last appearance at TVSC was in the early 1990s!) The followers had a great tussle back down to the Club but as the fleet headed back up the river Rob got past Graham and held 1st place through to the finish; Chris and Maria were close behind with TVSC's Commodore John (crewed by Ann TVSC's Vice Commodore in her boat) edging Kay and I into last place (by 18 seconds).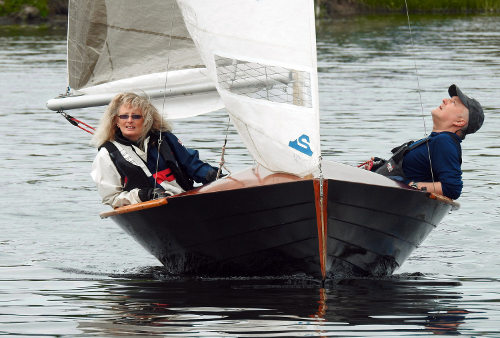 Race two was sailed immediately afterwards (following what our Race Officer quaintly termed a "P Break"). Rather than a simple up and down course to Billystones and back to the bottom mark below the Clubhouse, Roger set a loop course, with an extended "Goddard Chicane", which fooled half the fleet, who took mark three the wrong way round.

Graham and Zoe (crew 2) gently pulled away from Rob and there was much place changing behind courtesy of many buoy re-roundings. Two of the three miscreants did the necessary but sadly for Rob, who finished second behind Graham, he realised that he hadn't and had to retire. John the Commodore beat us (again!) into last place, but by only 17 seconds this time.

A splendid lunch was served up by Chris our new steward. Race three which was again the four buoy loop course with added Goddard. It was all to play for for first place with both Graham and Rob having a first but the four lap whiz round the bay saw Graham (this time crewed by his daughter Anya) romp away from the fleet finishing nearly five minutes ahead of Rob. Gerald found a turn of speed finishing close behind Rob, with the Commodore just beating Chris into 5th.
A most enjoyable day's yotting and it was great to see lots of assorted spectators including the Bloors, the Camm Family, Frances, Amanda and lots of TVSC gongoozellers.