Dinghy Shack National Series @ Burghfield SC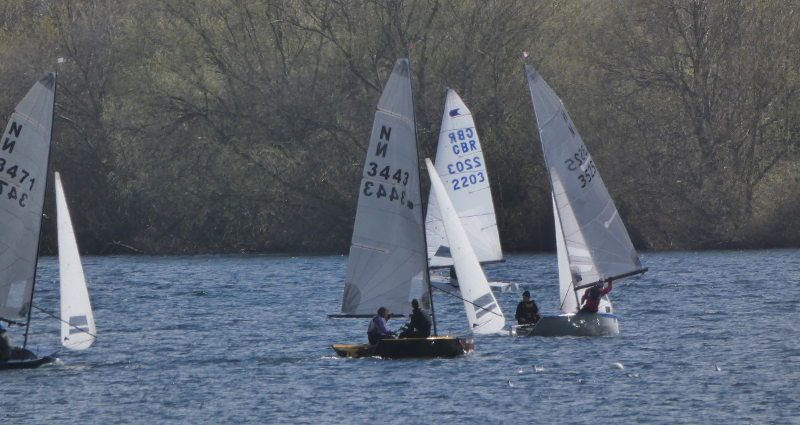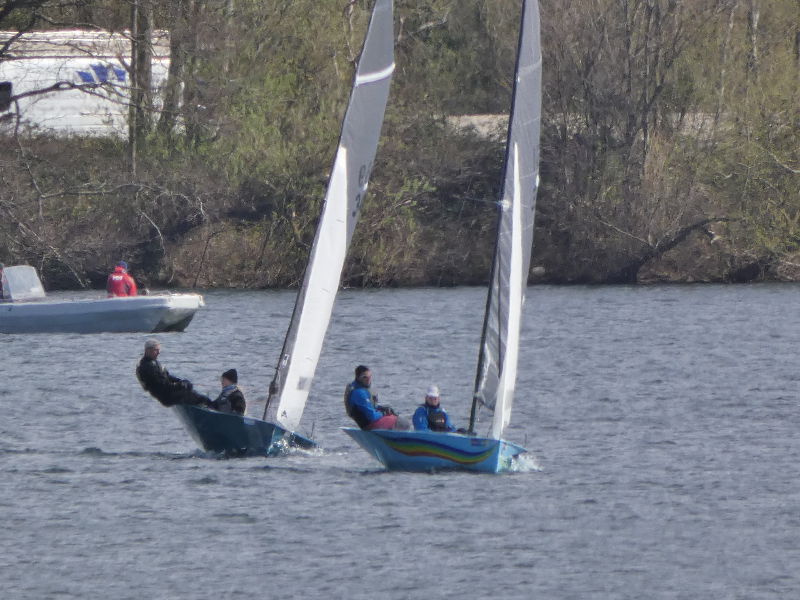 Four visitors came to join the 5 local boats for the N12 Burghfield sprint event sponsored by Dinghy Shack. The wind was a shifty north westerly 10-15kts with the odd gust in the low 20's.
Race officers Ann and Nick Jackson assisted by Charlotte Bell set a short trapezoid course at the top end of the lake. With the aim of running 8 two lap races during the day.
The first 2 races were won by Graham and Anya Camm with Ian and Alex Gore, Jon Ibbotson and Rachel Smith and Jon and Mandy Thornton filling up the podium places so clearly sailing as a family is the way to go! The shifty wind made for a good game of snakes and ladders with a lot of place changes, as well as keeping the mark laying team of Mike Bell and David and Rowan Copse busy.
In race 3, Jon and Rachel took the win followed by Graham and Anya and George Finch and Toby Hunt in third. After 4 races, the fleet retired to the club house for a well earned lunch, with Graham and Anya leading having scored 3 firsts and a second.
In the afternoon the wind had increased slightly and shifted requiring a course reset of the course and start line move, this didn't last long however and by the second afternoon race we were back where we started. Graham and Anya scored another two firsts and two seconds giving them a comfortable win overall, Jon and Rachel scored two wins during the day but where beaten to second place by Ian and Alex's more consistent results.
Dan Meadowcroft crewed by Zoe Ballantyne was 1st under 21, and Nigel and Chris White first non foiler.
All prize winners received discount vouchers as well as a range of goodies donated by our series sponsor Dinghy Shack.
Next dinghy shack event is at Salcombe Yacht club on April 30th - May 2nd.
Overall results
| | | | | | | | | | | | | | |
| --- | --- | --- | --- | --- | --- | --- | --- | --- | --- | --- | --- | --- | --- |
| Pos | Helm | Crew | Sail No | Club | R1 | R2 | R3 | R4 | R5 | R6 | R7 | R8 | Pts |
| 1st | Graham Camm | Anya Camm | 3530 | Burghfield Sailing Club | 1st | 1st | 2nd | 1st | 1st | 2nd | 2nd | 1st | 7 |
| 2nd | Ian Gore | Alex Gore | 3525 | Up River Yacht Club | 2nd | 3rd | 4th | 2nd | 2nd | 3rd | 1st | 2nd | 12 |
| 3rd | Jon Ibbotson | Rachel Smith | 3540 | Burghfield Sailing Club | 6th | 2nd | 1st | 3rd | 4th | 1st | 4th | 3rd | 14 |
| 4th | John Thornton | Mandy Thornton | 3443 | Burghfield Sailing Club | 3rd | 4th | 8th | 4th | 3rd | 4th | 3rd | 4th | 21 |
| 5th | Dan Meadowcroft | Zoe Ballantyne | 3471 | Upper Thames | 4th | 6th | 6th | 5th | 5th | 5th | 6th | 7th | 31 |
| 6th | George Finch | Toby Hunt | 3551 | Royal Harwich YC | 8th | 8th | 3rd | 6th | 7th | 7th | 9th | 5th | 36 |
| 7th | Thomas Lee | Jennefer Bugge | 3545 | Burghfield Sailing Club | 7th | 9th | 5th | 8th | 8th | 9th | 5th | 6th | 39 |
| 8th | Nigel White | Chis White | 3445 | Burghfield Sailing Club | 5th | 5th | 9th | 9th | 6th | 8th | 7th | 9th | 40 |
| 9th | Paul Keeling | Izzy Keeling | 3469 | Blithfield | 9th | 7th | 7th | 7th | 9th | 6th | 8th | 8th | 43 |