National 12 Dinghy Shack Open Meeting – Ripon Sailing Club
1st October 2022
With a strong wind coming from the West, this year's open gave some challenging conditions for the 9 boats taking part. A summer of sun and little rain also added the hazard of significant weed, floating and rooted, to Ripon.
There was little drama at the front of the fleet with the Ian & Alex heading off in 3525 to take the win in every race and securing the overall win. Behind them Philip & Em started the day well taking 2nd in the first race ahead of the local paring of Bernard & Grace. However resuming racing after lunch, they were pushed back to 4th with Bernard & Grace in 2nd and John & Alison in 3rd. The strong winds and gusty conditions resulted in John deciding to sit out the last race despite a softening of the wind strength. Philip & Em put on a solid performance to take 2nd in the final race, however the weeds and a dying wind mixed up the remaining fleet and Alan & Jonathan had their best result of the day with a 3rd.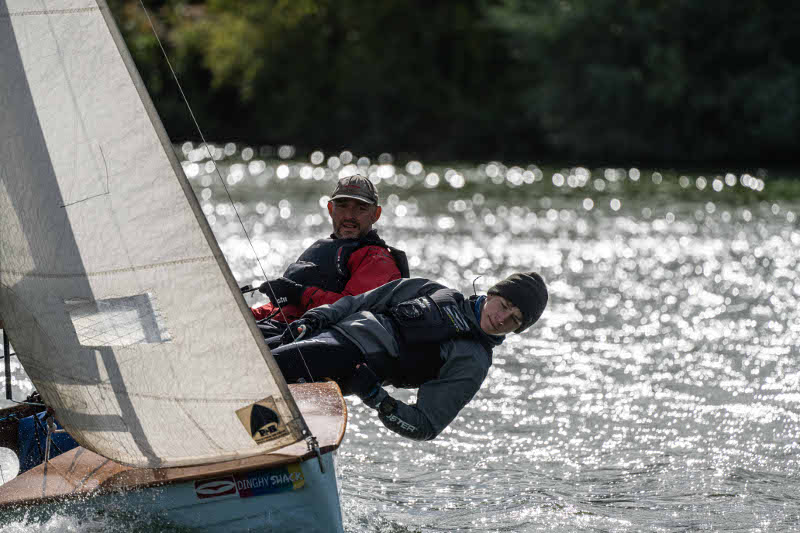 Further down the fleet, having changed from last years Design 8 to a Numinous, Paul & Isobel found the wind strength and gusts more than they were ready for. Tim & Chris spent most of the day fighting with the weeds and going for a spectacular swim when a toe strap parted company. Steve celebrated his best open yet by finishing all 3 races without capsizing and managed to finish 1 point ahead of Tony & Martin.
Overall results
| | | | | |
| --- | --- | --- | --- | --- |
| 1st | Ian Gore | Alex Gore | 3525 | Up River Yacht Club |
| 2nd | Philip David | Em Hampshire | 3499 | Yorkshire Ouse & Ripon Sailing Club |
| 3rd | Bernard Clark | Grace Stockdale | 3406 | Ripon Sailing Club |
| 4th | John Cheetham | Alison Cheetham | 3468 | Yeadon Sailing Club |
| 5th | Tim Hampshire | Chris Hampshire | 3502 | Ripon Sailing Club |
| 6th | Alan Mason | Johnathan Bradley | 2066 | Redesmere Sailing Club |
| 7th | Steve Jackson | Ethan Wild | 2708 | Ripon Sailing Club |
| 8th | Tony Dufton | Martin Parish | 3283 | Yeadon Sailing Club |
| 9th | Paul Keeling | Isobel Keeling | 3469 | Blithfield Sailing Club |
Write up by Tim & Ali Hampshire
Photos by Tony Dallimore