National 12 Vintage Championships 14/15 May 2022 held at Trent Valley Sailing Club

Saturday – "It was very sunny. The boats went very slowly as there was very little wind".
The high spots
It was lovely and warm.
A Lancaster Bomber flew over using the River Trent for bombing run practice.
Lunch by Ann Britton was excellent, as too was the evening meal organized by Guy Browne's caterer, but everyone was too tired to play skittles.
Lots of "gongoozlers" turned up to chat, reminisce, eat and drink.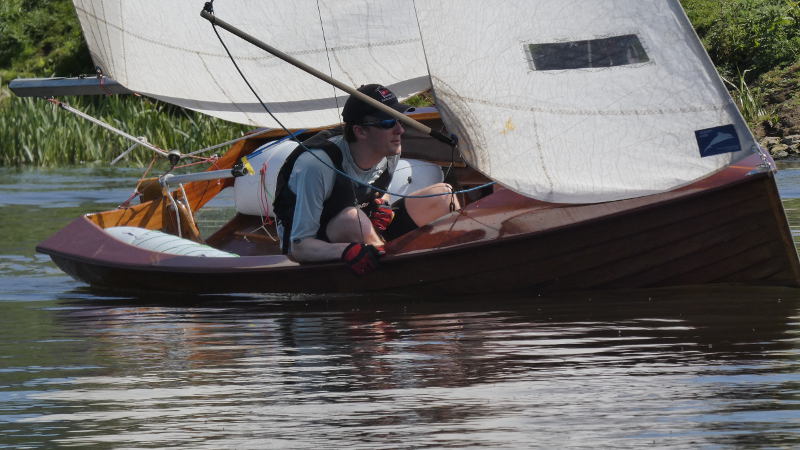 The first race in the Derwent series was used to set the handicaps for race 2 and 3. All races counted in the series discouraging sand-bagging in the first race. John Sears & Zoe Ballantyne were first off the start line closely followed by Grahame Newton and Mark Stevens but Graham & Felix Camm stuck to their guns close tacking up the shore out of the current to eventually take the lead and claim the first race. The wind then died to nothing meaning some boats only managed a single lap. The handicappers scratched their heads as to how to set the timings for the next race…
After the first race Simon Stead realized that Daniil, his son/crew, had to go home and revise for his exams on Monday so Tim Gray, who had only popped down with wife Wendy to watch, leapt into action and volunteered to sail with Simon.
The second race was a pursuit race with 11 minutes between first and last starters. Grahame Newton and Mark Stevens set off sailed into a huge lead. John Sears & Zoe Ballantyne and Gerald Copsey sailing with Anya Camm closed the gap but didn't challenge the lead. Graham & Felix Camm starting at +11 minutes worked their way through the fleet but again couldn't make much of a dent on the leaders and Grahame Newton and Mark Steven's were well ahead at the one hour race finish.
The handicaps were adjusted again for the final race this time with only 6 minutes between the first and last starters. John Sears & Zoe Ballantyne worked their way into the lead but Graham & Felix Camm chased them down and took the lead on the final beat/run. As the wind died positions look certain for first and second place however a zephyr filled from behind bring the fleet back together. Graham & Felix were stationary within 2 boat lengths of the leeward mark with 2 boats running inside them and two cruising around the outside. As the club hooter sounded out all five boats were overlapping each other at the leeward/windward mark with only a few inches between them. Only Ally Britton in the rescue boat could place the boats. This was exactly how the Derwent Handicapping system should work – congratulations to Race Officer Roger Britton and to Kevan Bloor for this!

Sunday – "It was windy and not as warm, but at least it didn't rain".

The high spots

Excellent breakfast, lunch, and tea by B Bramhall.
An easy day for the race officer Guy Browne, a simple course up and down the river (and no heavy time calculations!)
No work for Rob Sloane in the rescue boat; no one did any sail washing or similar exploits (although one or two did get close….).
In race 1 Graham & Anya Camm did battle with John Sears & Zoe Ballantyne until two narrow boats drove John & Zoe the wrong side of the windward mark. Having eventually recovered, John & Zoe found themselves in the battle between Tim Gray (Simon Stead crewing) in Shotgun and Paul Turner & Kay Ash in China Doll. James and Angus had a late start due to rigging issues, followed and survived several wobbly moments, but the increasing wind and gusts prompted them and Paul & Kay to head for the shore. Graham & Anya Camm went on to win the first race.
The wind increased for race 2 and N2403 and N2153 decided to sit out, and so Graham, John and Tim did battle and finished in that order.
After a splendid lunch, with rain forecast and the vintage boats timbers nervous about the increasing wind race 3 was cancelled. Boats were packed away, tea was had, prizes given out, and all headed home.
The event ran perfectly (other than the wind being a bit iffy). Thanks go out to Race Officers Roger Britton & Guy Browne, rescue crews Ally Britton and Rob Sloane, plus assistants Judy, Greg, Simon D , also to Kevan Bloor for advice and photography, to Ann Britton and B Bramhall for catering, and to the support of the visitors (especially the Camm Family and a contingent from Staunton Harold, and latter having already booked boats for next year!).

Saturday – Derwent Handicap
(First race scratch, 2nd & 3rd pursuit, three races to count)
#

Boat

Design

Helm

Crew

Club

Races

Points

Position

2492

Whisper*

Whisper 7

Graham Camm^

Felix Camm

Burghfield

1/2/1

4

1

2403

China Doll*

China Doll

Grahame Newton**

Mark Stevens**^

Staunton Harold

4/1/3

8

2

1903

Slick Chick

Proctor Mk 9

John Sears^

Zoe Ballantyne

Notts County/Burghfield

2/3/4

9

3

2183

Reflection

Sparklet

Angus Beyts

James Dalby#

Newburgh/Trent Valley

5/5/2

12

4

2399

Mr Jones*

Mr Jones

Gerald Copsey

Anya Camm

Ely/Burghfield

3/4/8

15

5

2359

Shotgun*

Shotgun

Simon Stead#

Daniil Stead

Tim Gray^

Trent Valley/

Staunton Harold

6/6/5

17

6

2345

(1673)

Let's Go

Proctor Mk 4a

Brian Herring

Roz Stevenson

Winsford Flash

7/8/8

23

7
Sunday - Midland Area Open Meeting & Gill Half Model/Vintage Championship
(Scratch, 2 races to count)
| | | | | | | | | |
| --- | --- | --- | --- | --- | --- | --- | --- | --- |
| # | Boat | Design | Helm | Crew | Club | Races | Points | Position |
| 2492 | Whisper* | Whisper 7 | Graham Camm^ | Anya Camm | Burghfield | 1/1 | 2 | 1 |
| 1903 | Slick Chick | Proctor Mk 9 | John Sears^ | Zoe Ballantyne | Notts County/ Burghfield | 2/2 | 4 | 2 |
| 2359 | Shotgun* | Shotgun | Tim Gray^ | Simon Stead# | Staunton Harold/ Trent Valley | 3/3 | 6 | 3 |
| 2183 | Reflection | Sparklet | James Dalby# | Angus Beyts | Trent Valley/ Newburgh | 4/6 | 10 | 4 |
| 2403 | China Doll* | China Doll | Paul Turner | Kay Ash | Trent Valley | 6/6 | 12 | 5 |
*Turner Collection boats ** Fireball sailors. # Laser sailors ^ Former TVSC members
Concourse D 'Elegance: "Slick Chick" N1903 John Sears
Most travelled competitor: Angus Beyts 652 miles (runners up - the Camms travelled up from Surrey, 300+ miles)
More photos from Kevan Bloor on Flicker
Even more photos courtesy of Rob Sloane